Miss Kitty

MANIA MOD





Joined: 27 Apr 2006
Posts: 6533


Location: The Heart of Texas

Made this for Miss Kittie- Put one of her balls with the bell inside and some catnip. She loves it. It flies all over the room.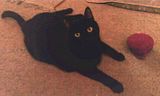 Just finished another Danger craft monster Laundry Monster from the book of  knitted Monsters.


I got the owls eyes to far apart. I'll know next time..


Just added another shot of Mr. Pumpkin.